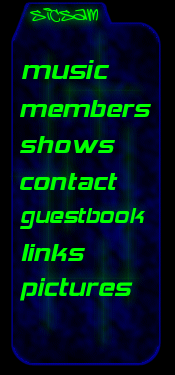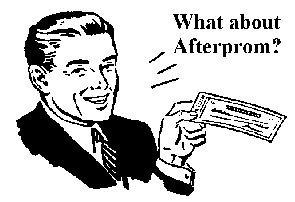 Welcome to the Official SicSam website. Whether you're a fan, or you barely know us and want to find out more, this site has what you're looking for. Click the links at the left to find out more info on us and our music.
NEWS

---
September 18, 2008
So it's only been a little over five years, and somehow tripod has left our site up this whole time though I haven't logged in since the post you see below. If you've stumbled across this site and were actually looking for us, you're truly a fan. Check out our new little project at http://www.myspace.com/thebusinesscasuals. I also got bored and archived all of our old recordings, so if you wanna give those a listen, check it out here. By contractual agreement, The Sam will never die.

Kenton

July 8, 2003
Sicsam may be a fading memory, but we have started a new project called Treaty of Paris. Last weekend we threw together a demo cd in Godfrey, IL. A single from the demo can be downloaded from our website. As of now the address is http://www.freewebs.com/treatyofparis, so check it out. Obviously if you are reading this you are one of the few people out there that still support us, so from us, thanks, we appreciate it.

Sincerely,
Former members of the sam

August 23, 2002
Well, this update is a bit late, but we've been busy. Thanks to all who saw us at our last show at Phillstock a few weeks ago. We've really enjoyed playing together for the past year and a half. Even though we never really had a fan base we still had a blast. I am now in Kirksville and ed and berg are in Moberly, studying our little hearts out. Maybe next summer we will get back together and have a reunion, but for now the dream is over.

The End

August 5, 2002
Wow, it's been a while since the last update. Nobody really knows what's happening with the sam, not even me. For those few of you who keep coming back to the site, here's what's going on from my point of view. Matt quit the band last week, and my brother Kyle has been playing keyboard with us for a while. Those of you who saw our very much less than satisfactory performance at the Pleasant Hill Fair talent show got a taste of that. Berg wants to get Nathan Fry to replace Matt for Phillstock, which will be our last gig ever most likely, since we're going off to college by the end of the month. We will definately play Phillstock though. We're scheduled to play fourth, at around 2 o'clock. All of us have been on vacations at separate times, so not much practicing has been done. However, we will have some new tunes at Phillstock. Hopefully you will like them. There's this music festival thing trying to be set up by John Carmitchel in Highland, Illinois, but we're not sure if that's going to go through. We really hoped to play there, so maybe we can fit it in if he gets it arranged on a good date. That's it for now, and farewell to Matt.

June 21, 2002
Today was a fun and pure day, for we jammed without Matt. Nothing personal against Matt, but it just reminded us of the old days. We wrote a couple songs, one pretty one, one we wrote trying to make fun of The Strokes. There is a show we will be playing in Danville on Sunday, our second gig out of Pike County. If you want a ride out there to watch us, get some gas in your car. We have pictures from church camp on the pictures page if you haven't seen them already. Tonight we're going a Park show in springfield to check out Tony Peck's new band, The Junior Varsity, so if you're going maybe we'll see you there. Don't forget, we love you.

June 11, 2002
Since the last update we have all become high school graduates, except for the lame highschooler Matt. Not too much has been going on; We played a show in Pleasant Hill at 2:30 in the morning for some reason, but at least it was for a good cause. We still have a lot of cd's for sale, so if you want one, get in touch with us at sicsam@lycos.com. We're hoping to send our demo to the Creepy Crawl, a bar/club in St. Louis. We'll let you know if they book us some time. Also we will be playing at a church camp Wednesday the 12th of June. That's our last show till Phillstock that we have booked as of now, so if you need us to play let us know!

May 22, 2002
Thanks to all of you who bought a cd last night at the bowling alley. Congrats to the 8th graders, thanks for showin up. Unfortunately we sold all of our cd's, so today we have to make 50 more copies to sell tomorrow at the clash of the classes, but I think it can be done even though graduation is tonight.

May 19, 2002
The cd is finally finished. Finally. We were up until the wee hours of the night putting cd booklets in the cases, but we got 50 copes done. Talk to one of us about buying one if you haven't already, they're only 4 bucks. The cd itself has 6 songs on it equaling 30 minutes of listening enjoyment. The whole thing was mixed and recorded by Sicsam and Sicsam only. Nothing else is really going on other than the shows we have coming up.

May 13, 2002
Hey, our cd is extremely close to being finished. We have all the instrumental parts down and just need to finish some vocals on Thursday. After that it will be put into production as soon as we get a cd booklet designed. Unfortunately there are only 6 songs on it, so it's more like a demo than an album. But still, they sound pretty good. We also have four shows coming up within then next 3 or 4 weeks. These are some busy times. If you're a student of PHS don't forget to show up to school on the 23rd to check us out, or at least just stop by at 11:30 to see us. We'll be selling the cd's there hopefully. Oh yeah, Matt James' fate lies in your hands, don't forget to vote in the poll above if you haven't already.

April 24, 2002
Seems like this site is getting a little popular, there's more that 2 people a day coming here for once. Anyway, we're still working on recording. We've done 2 more songs, but can't be released yet since we've decided to redo the drums and vocals. Look for them soon though, as we are working hard to pump out the songs. Oh yeah if you haven't noticed I put an mp3 of Pixy Dust that we recorded about a month ago on the MUSIC page.

April 12, 2002
Our dreams have recording have been temporarily smashed since my computer on which we recorded crashed and everything was lost. But we'll try again and finally get that cd out. We may have a show lined up for a party for Rischa Frazier (spelling's probably way off) later in the month, and we played a party for Gabby White last Friday. You can check out some pictures from that show on the pictures page. I'm going to have one of our newly recorded songs that wasn't trashed uploaded here eventually, so look for that. That's it for now. "The Truth Of One's Trueness Is Based On One's Vernacular Inaccuracies."

March 5, 2002
Things are picking back up again. We played a show (even though it was for 4th graders) last Friday and may have some more gigs coming up. We began production on our cd yesterday, and so far it's sounding good. We have one song pretty much down and it's a lot more clear than previous recording attempts. It's so good that we've made numerous copies of just that one song to listen too, bet you can't wait for the full cd huh? That's it for now. Oh yeah, the message board it down. It'll be back up someday.

February 25, 2002
The Sam is back. Yep basketball is over and we jammed for the first time in a long time today. We're working on getting our new top secret bass player. We also have a show this Friday, but I don't think it's open to the general public. One of the teachers at PCS wants us to play for some festival or fair or something over there during school, so I think we're gonna do it. Also the student council wants us to play at the clash of the classes later this year, so more on that later. That's it for now, just had to announce the reunion.

January 21, 2002
Hey I added a new message board to the site, so start some stuff up in there. Click here. Also I bought a new ride cymbal, should be here in a few days. It's pretty nice, I wonder if I'll ever get to play it...

January 10, 2002
Soon enough ED and I will be going on a special trip to a certain location. As soon as I turn 18 anyway. Ed turns 18 on Wednesday the 16th, give him gifts. Today is Ed and Berge's last day in music appreciation. Berge says, and I quote, "We'll miss you Norris." On the same note, it was me and berge's last day of American Gov't. We'll miss you Jim. Someday we'll play again, but it's doubtful. I got some new hihats. Peace

January 5, 2002
Yeah it's 2002, awesome. Anyway, I checked the long neglected "Official Band Email Address" and read a message from December 20 from Kristen Rhodes (I think I spelled that right). She said that were booked for Phillstock, and that's pretty cool since there some big bands playing there. But we only have 7 months to prepare for it!!! Yeah that's right it's in August, so if you can remember go to that when the weather is completely opposite from what it is now. Check out the official Phillstock site at http://www.geocities.com/phillstock/2. On a completely different subject, there was a basketball game tonight. Ed and Berg played some mean roundball defeating Unity by a lot. I was there to bust out some phat beats before the game and at halftime with the band. Yep we sure do love participating in extracirricular activites. Until next time.....

December 18, 2001
Things have been nonexistant in sicsam lately. Not much has been going on. We eat lunch together every A day, when berge has jazz lab and ed and I have english. But no music has been played in almost 2 months. I ignored berge today in the hallway, and he pretended to shoot at me as I was sitting in zoology. But we made it all up as we exchanged christmas cards in american government. We're playing at phillstock in about a million months, so be there! Ed got a 58/60 on his english essay, berge had a 56/60, and I got a 54/60. Ed is by far the smartest man, and I have the longest hair now due to basketball taking over ed and berge's minds. They are controlled by the MAN. In other news, ed's guitar strings are rusted. My drumsticks are warped and my cymbals are tarnished. Berge's amp is dusty. Moments of silence for sicsam, but we will prevail. We will continue the rock and roll...

November 7, 2001
Well, not much to say these days. Our show at the bowling alley was ok, not much of a turnout though. We still haven't seen any $$$ yet from the bowling alley. I put up some pictures from before the show, but there aren't any of us playing. We've been on a kind of a break lately. We haven't played together since the show. That's mainly because ed and berg have to go to basketball practice everyday, and by the time that's done I have to go to work. Plus we can't jam until bergstrand brings up his english grade. Check back later to see if we get some shows to play

October 25, 2001
I just want to write about this because it was cool. Yesterday at lunch when all 3 of us went through the drivethru at KFC, our total for the meal was $12.12, the time on the clock was 12:12, and the track we were listening to on the cd was number 12. This is no lie, it was not staged. What can it mean? Anyway, don't forget to go to our show tomorrow, that's FRIDAY the 26th, at the bowling alley at 7:30.

October 22, 2001
Just a quick update on the show this friday, the 26th. From what I hear, we will be playing at 7:30, and I'm not sure if there's a cover charge. Anyway, not only will we be playing, but Band #4 will be opening for us. That's right, Band #4. A side project of MegaPowerPhoto consisting of MunchMaster (Kyle Frere) on drums and Dandie Dann (Nathan Fry) on bass. They'll open the show for us with a few songs, and then we'll play the remainder of the night.

October 8, 2001
Finally, after all this time, we have a show lined up. I (Kenton) talked to Berg today and he said we have a show the 26th at the Bowling Alley. Other than trying to get gigs, we've just been jammin out every now and then lately. Our PA is busted so it's kinda tough to play, but we manage. Go out to the Bowling Alley on the 26th to hear some of our new stuff.

Oh yeah, I got a ticket on our way back from Dave's Music in Winchester. Donations are welcomed.

September 17, 2001
As most of you probably know, Spoon is breaking up. We just wanted to say some words. We're greatful to Spoon, for if it wasn't for Asa and Spoon, we wouldn't have had as many gigs as we have had. It will be different without Spoon in the surrounding area. Brad Bergstrand has been to 9 Spoon shows himself and hopes to make that 10. So everyone make sure you go out to cruise night in Jacksonville to see their last show on the 22nd at Hastings.

On a different note, we wrote a few new songs in the past few days and they're pretty good. Just wanted to get that out, not much goin on for Sicsam. We've collected a bunch of video tapes we've shot over the summer from shows and other adventrues and plan to put that all together just to see how it turns out. Check back in the future to see how that goes.

OLD NEWS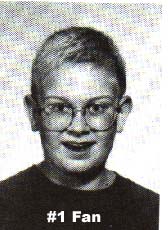 Here's our Number One fan, the man that has been to all of our shows, Ryan Lawber.